TAY RIVER ALGONQUIAN COMMUNITY
Who Are We:
Our Indigenous community stems from the original seven North Bay, Ontario members who were all part of the Saint Vincent de Paul Church parish, a recognized collective indigenous community.  We were all raised by our parents to be strict French-Canadian families.  The Assumption Nuns taught us from grade 1 to grade 12.
Not once were we told we had Indigenous heritage, as being an Indian was taboo, and no one dared to talk about it.  Nevertheless, that did not stop our families from encouraging us children to learn the wilderness skills of hunting, fishing, snowshoeing, canoeing, using medicinal plants, etc.  Our food supply came mainly from the forest and lakes.
After high school, most of us left North Bay to receive a college or university degree in the Ottawa area.  The friendship bond continued, and together, we diligently purchased our 375 acres of private land.  We built our log cabin, bunkhouse, lodge, machinery buildings, sugar shack, bridges, and our new cultural center and teaching facility.
Although our Indigenous community began focusing on hunting, fishing and building a hunting camp, over time, we have broadened our scope to include a wildlife and forest stewardship certification program, a sugar shack operation and a physical Indigenous cultural and teaching center.
Our community has grown to now include ten families with twenty-four Algonquian ancestors and over seventy Indigenous descendants.  We are proud of our cultural heritage and being: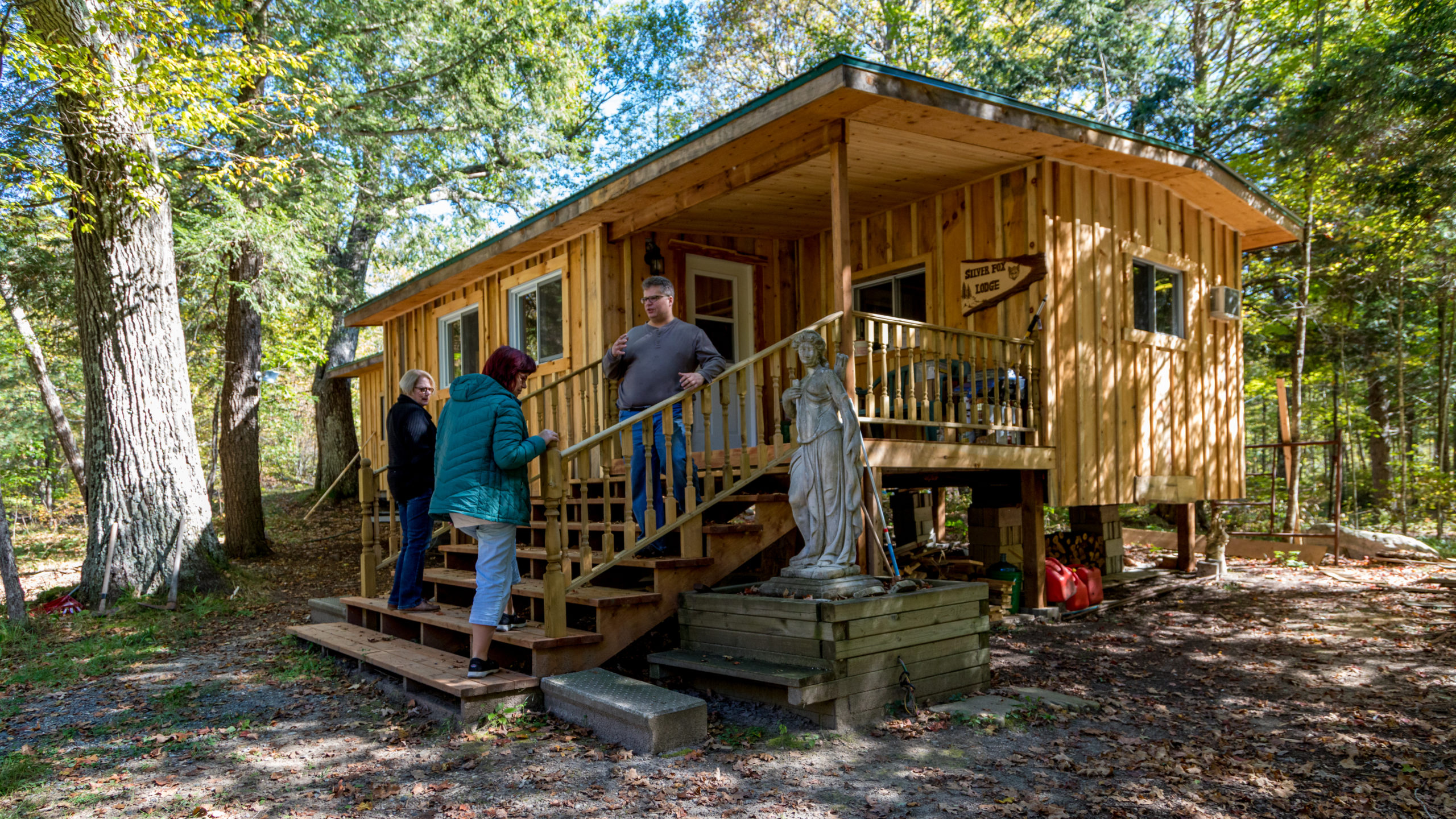 A Non-Status Community – None of our members have lived on or are part of any reservation status nation.
Assimilated – Our Indigenous ancestors chose to live with the colonizers and share and blend our cultural traditions.
Independence – To become independent financially and culturally and choose what we believe to be true responsible stewards of the land.
Our present Council of Elders:
Traditional Chief Richard Lalande  Chief Dream Hunter
Hunt Master Pierre Laprise   Hunters Eye
Elder (Genealogist) Richard Denis   Widow Kawon
Elder (Sheriff) Michel Larocque  Silver Fox
Elder (Knowledge Keeper) Jean Jacques Savard  Gray Skies
Elder (Mentor) Mitch Ryan Happy Warrior
Elder (Public Affairs) Chris Lalande  Sundance
We are pleased to be working together with other Lanark stewardship and Indigenous related groups.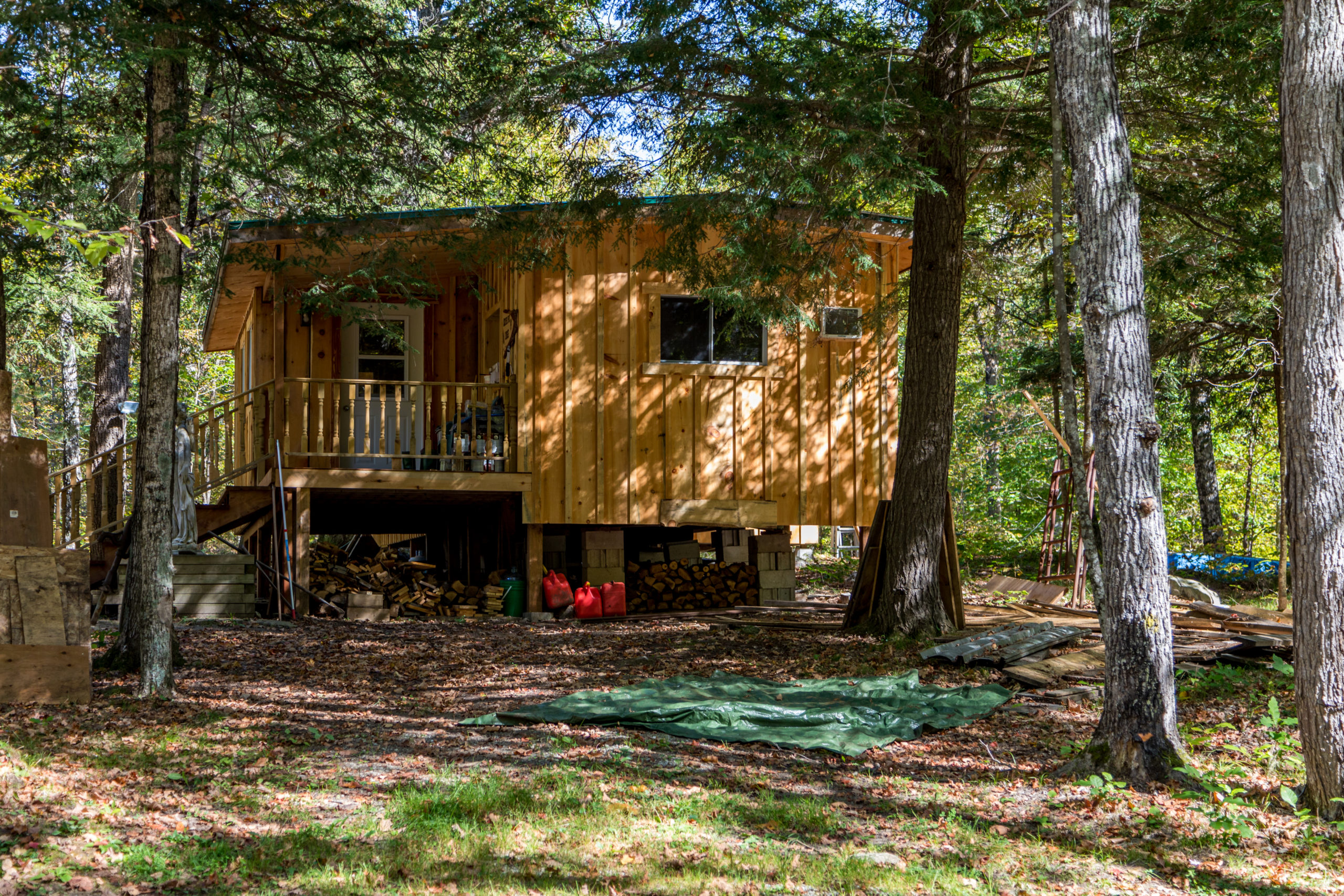 WHERE ARE WE LOCATED:
Our Indigenous community is located on the 375-acre height of land in Tay Valley Township in Lanark County, Ontario, Canada.
This land is part of the traditional Algonquin unceded land, given to the Algonquins of Ontario by Royal Proclamation in 1763 and again ratified by the Treaty of Fort Niagara in 1764.
Our land sits on the Pre-Cambrian Shield, in Tay Valley Township, on Concession #6, lots 12, 13 and 14.  It has been seriously scalped by the last ice advance some 10,000 years ago and has left behind a drainage gravel deposit of the Champlain Sea era.
Several colonizers have tried to farm this pile of rocks without much success.  It was four 100-acre plots of land given to Irish and Scottish immigrants, many of who worked on the Rideau Canal in the early 1800s.
Today we have succeeded in managing the land to include having:
WHY ARE WE HERE:
Our small Indigenous community members grew up in a relatively closed cultural and protected setting.  The Catholic Church was extremely influential in our upbringing and social life.  We grew up as French Canadians who lived off the land.  We spent our childhood and teenage years being out in the bush and learning to be comfortable and at peace while in the woods.
After graduating from high school, we left North Bay to receive higher education at a college or university to start our professional careers.  However, living in a big city felt uncomfortable, and the need to find refuge in the wilderness was essential to us.  We began to search for the most secluded and best hunting and fishing areas close to Ottawa.  To the east and south was a well-developed farm country; to the north was the Ottawa River and the province of Quebec.  So, we went west and, like our ancestors, followed the rivers to the lakes.  We searched and hunted along the Mississippi River and Rideau Rivers until we found a place to settle, in Bathurst Township, now Tay Valley Township in Lanark County, Ontario.
At first, we needed to meet the farmers who owned the land and ask them permission to hunt on their property.  We became friends, and with their assistance, we would go on to find and purchase the 375 acres our community owns today.  We often ask ourselves, 'why did we end up at this location? Everything seemed to come together so easily.  Was it coincidence, good luck or destiny?
Recently through the Algonquins of Ontario research documents, we have learned the following ancestor's story.
"Our Indigenous ancestor, Marie Olivier Sylvestre Manitouabeouich, a Nipissing Algonquin, is recognized as having her descendants follow Chief Pierre Shawinipenessi of Kanesatake in Quebec, near Montreal Island, to start a new life on the unceded traditional Algonquin territory, which is now the Tay Valley Township.  In 1842, a small tribal band left, probably by canoe, to travel up the St. Lawrence River to Ottawa, up the Ottawa River to the Rideau River to the Rideau Lakes, then up the Tay River to Bob's Lake.  Shawinipinessi settles on an island in the east basin or Long Bay area of Bob's Lake.
"On July 17, 1842, Shawinipinessi petitioned for a land tract of 2000 acres straddling the former township of Oso, Bedford, and South Sherbrook; the legal description lot #31, Concession 9.  Chief Shawinipinessi and his tribe made a valiant effort to farm and make a go of it by hunting, fishing, growing corn and potatoes.  This tract of land was very secluded and not very arable.  On March 21, 1844, an order from the council concluded that the land grant's approval.
"Then began the conflict with trespassers.  First came J.R. Booth, who sent his loggers to cut down the forest, build shanty buildings and reduce the wild game.  The tribe was successful in getting court orders to stop the trespassers but with no results or compensation. Canada's government of the day did very little to protect Lanark's Indigenous community and encouraged them to move out.
"By 1851, many tribal members were pushed out and moved to places like Ardoch and Pikwakanagan (Golden Lake).  Other descendants moved to Allumette Island, then to Lake Nipissing, North Bay area, where our community elders come."
This story begs the question; we know our ancestors influence our lives to this day.  Was it by chance, our community ended up making a full circle from Lake Nipissing back to the Tay River or was it destiny?
HOW DID WE BECOME AN INDIGENOUS COMMUNITY?
Our assimilated founding families had a difficult and arduous effort to get us to be a proud Indigenous community today.  Growing up, we felt we were somehow different from the other colonizing families but never really questioned why.  It was not until we left our homes and received higher education that we realized that we were taught French Canadian history and now studied English Canadian history and they were quite different.  We realized that there was little Native Canadian history available.
Our curiosity now aroused, we began to ask our grandparents and parents questions.  We had many private interviews with them, which only gave us reason to dig deeper.  We approached our teachers and learned that 'genealogy' was an artful science that would provide us with answers.
Two of us decided to pursue this research field, and it took us some 40-years of continuous study. Still, later, with computers' help, we finally established that we all had Indigenous heritage.
Today, through genealogy, we have finalized thirteen families, full ancestor lines, which gave us:
Twenty-four full-blooded Indigenous ancestors,
Ten full-family lines,
Over seventy eligible Indigenous members.
On July 23, 2019, we registered our 'Tay River Algonquian Community' name with the province of Ontario under #290806975.
On August 8, 2019, we officially held our first Council of Elders meeting, held at our community log cabin facility.  This meeting was an extension of our long-established Eco-Lodge Game Farm and Hunting Club association, which started in 1973, with most of the same founding families.
WHAT DO WE WISH TO ACCOMPLISH?
Our Community Mission:
The Gitchie Manitou has taught us that we are one with the land; therefore, we must:
Leave the land we know to be a better place than we found it,
Learn to be better, knowledgeable stewards of the land we know, and,
Be ready to teach, promote, respect, and enjoy our Indigenous heritage.
Our Community Objectives:
A physical relationship with the land,
A cultural sharing of traditions and teachings,
A spiritual understanding of how nature and humans are connected, and
Study of the world around us by observation.
Cultural Center teaching Programs We Are Developing:
Lanark County Indigenous History
Oral Indigenous Traditions
Lanark Heritage Maple Syrup
F.A.H. Hunter and Gun Safety Courses
Indigenous Spirituality and Wellness Practices
Woodlot Wildlife Management
Sustainable Forest Management
Archery
Hunting Dog Training
Competitive Horse Competitions
Ontario Trapper's Course
Edible Natural Wild Plants
Maple Syrup sales
Take a leisure drive to spend some time at our cultural centre, then if interested and if open a volunteer will escort you to the sugar shack. Meet the sugar shack crew and see if there is good reason to help out.
Important Note:
The creator has given us so much to be thankful.  The earth, sun, stars, forest, lakes, animals, humans – everything around us and within us!
Let us always remember to take the time to say THANK YOU!
MEEGWITH
Contact the cultural center